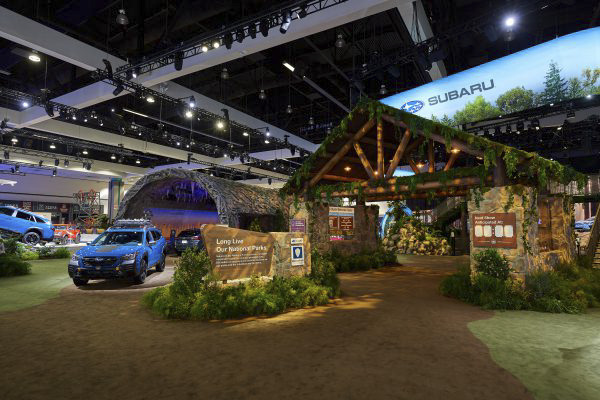 The triumphant return of the LA Auto Show
At the debut of the Fisker Ocean at the 2021 Los Angeles Auto Show, we felt like CEO Henrik Fisker summed up what was on many of our minds:
"It's really great to see everybody in real life. I don't know about you guys, but I'm Zoom-ed out. So it's great to be back here at the LA Auto show."
We couldn't have agreed more.
The power of in-person
Live auto show experiences — getting to see, touch, and even ride in real vehicles — aren't easy to replicate on computers or phones. So we were pretty excited for in-person auto shows to return.
And, judging from the almost palpable sense of excitement present at the LAAS press days, we weren't alone.
Let's work wonders
Auto shows like the one in DTLA don't happen by accident. Creating engaging brand experiences requires a herculean effort from a lot of different stakeholders — especially in the days leading up to the event. As an end-to-end service provider, EWI works with OEMs, other agencies, and various service providers to make magic happen on the floor of an auto show. And most of the time, audiences only get to see the finished product — the fruits of our labor.
Not this time. In honor of the return of this event, we wanted to provide a glimpse behind the scenes, to show what goes into the creation of these experiences.
Subaru's cave of wonder
Subaru's auto show spaces are always a highlight of any show, chocked full of amazing, on-brand experiences. (As we wrote a few years ago, one publication called the Subaru exhibit "the most Subaru thing we've ever seen.)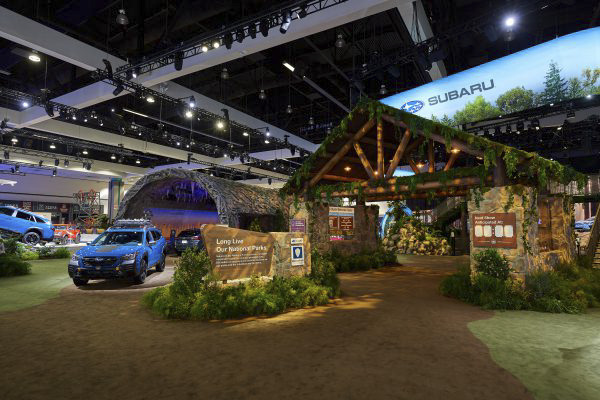 For 2021, Subaru upped the ante once again by creating a unique experience that showed how Subaru is "More than a Car Company" — the brand is committed to zero-waste manufacturing, partnering with our National Parks, and protecting our planet. The immersive, cavernous engagement allowed users to plant trees, divert waste from landfills, and admire the splendor of the night sky.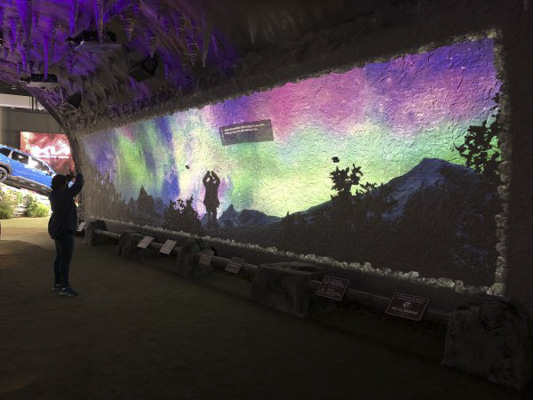 Pulling an engagement like this off in a real environment takes months of planning, testing and careful logistics. The following photos show our team testing the experience at our shop in North Carolina.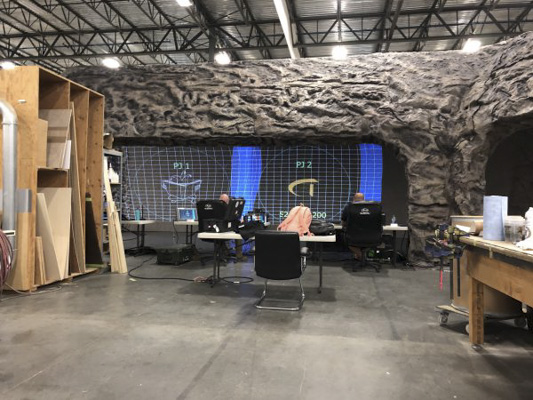 Once the technical kinks had been worked out, the experience had to be replicated on the floor of the LA Convention center. This meant quickly erecting a cavernous space and setting up and dialing in all hardware and software for show-goers.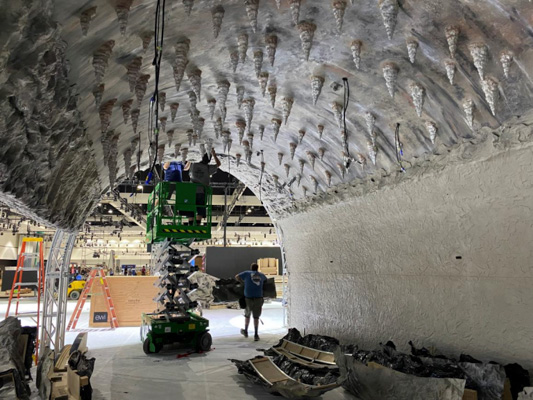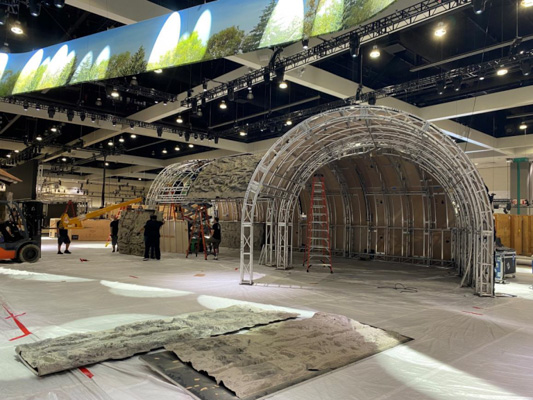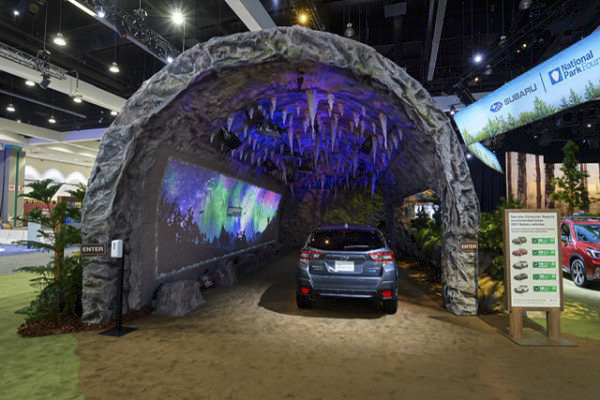 Kia's inspiring space
Kia recently went through an extensive brand evolution. And the company's new brand purpose — "movement that inspires" — and design direction certainly has us excited for what lies ahead. For Kia's LA Auto Show buildout, we sought to infuse the brand's bold, dynamic, and inspiring brand into every touchpoint, from architecture to activations.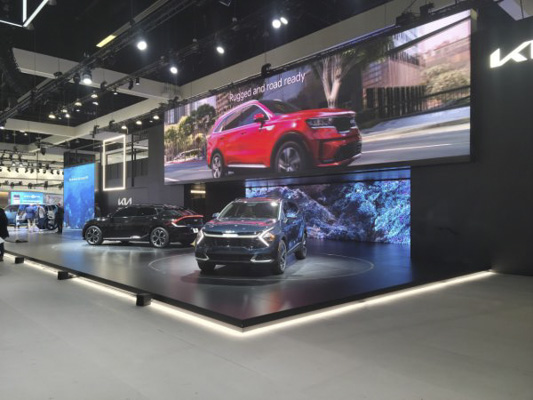 The floor is one of the unsung heroes of any auto show, as what is underfoot actually can communicate quite a bit about a brand. Kia's buildout reinforces the brand's bold, purposeful position as a market leader with a beautifully engineered raised floor.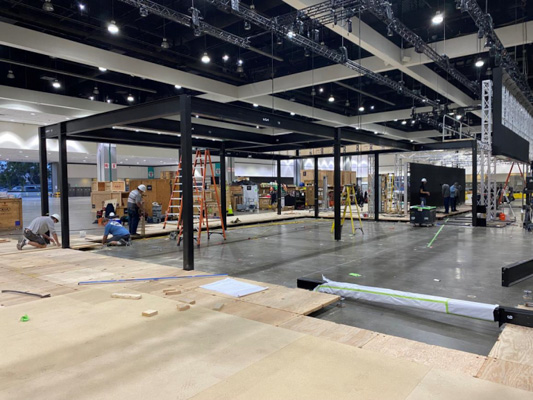 The rest of the Kia buildout required extreme precision and attention to detail. Sleek modern buildouts like this look amazing when they are executed well — but if craftsmanship is shoddy, mistakes can stick out like a sore thumb. As usual, our team of craftspeople and fabricators paid attention to the small details that others might overlook.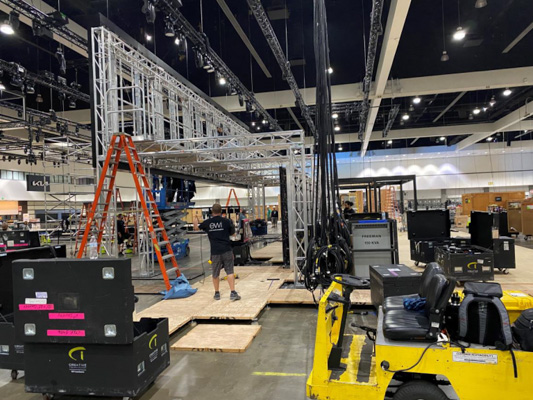 In recent years, traditional digital interactions have largely been relegated to table stakes. Standout digital experiences have to blend elements of physical and digital together in a way that's safe, hygienic (no-hands!) and exciting.
We created a larger-than-life interactive color and trim experience unlike anything we've ever seen before. Using UltraLeap technology, we were able to project tactile sensations onto users' hands with ultrasound waves — while they explored different color and trim options of different Kia cars and SUVs.