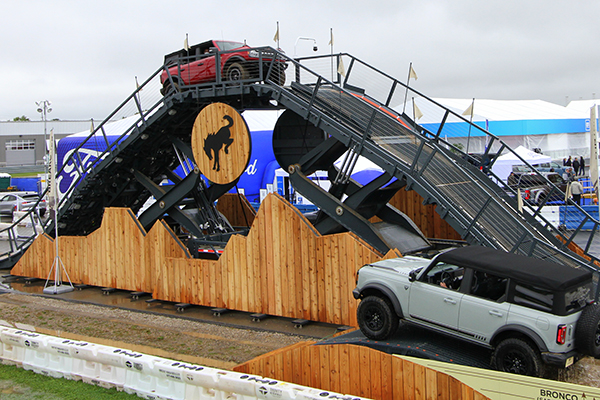 A new kind of auto show experience: the story behind Bronco Mountain
After nearly 3 years, Motor Bella marks the return of the auto show to Motor City. But the event (which kicked off this week outside of Detroit) is not a traditional auto show. It's an entirely new kind of engagement, and (in our opinion) this kind of new is super compelling.
Modern audience expectations have shifted considerably in recent years. Traditional auto shows — featuring static indoor displays and stationary vehicles — still have their place. But what about the consumers that are looking for deeper, more experiential engagements? Motor Bella represents a new breed of auto show that delivers unique, live experiences that show goers simply won't be able to get anywhere else.
Enter Ford and the exciting new Bronco. (Disclaimer: yes, we want one.)
At Motor Bella, Ford went all-in on audience experience, creating a larger-than-life obstacle course where guests can experience the new Bronco's 4-wheeling capabilities for themselves. The Blue Oval worked closely with Imagination to dream up a one-of-a-kind track that highlights the Bronco's performance. And when it came time to turn wild ideas into reality, EWI got involved.
The experience
The centerpiece of the obstacle course is Bronco Mountain, a massive metal and wood structure that lets riders experience the Bronco's impressive climbing and descent capabilities firsthand. Show attendees can ride shotgun while a driver pilots a new Bronco up and over the biggest structure at Motor Bella. Bronco Mountain's hydraulic-powered approach and descent are set to 38 degrees — steeper than any structure at Motor Bella. (And in case you're wondering, no, your crossover couldn't do that.)
But the fun doesn't stop after a single terrain feature. The Bronco obstacle course also features:
A speedbump "washboard" (to highlight the vehicle's nimble suspension)
A "twist ditch" (to show off the Bronco's ability to stay level while crawling over obstacles)
A fording pool (to highlight the vehicle's water crossing capabilities)
An off-angle ramp (to showcase the Bronco's ability to handle steeply banked curves)
A sand pit (to demonstrate the Bronco's capability in loose or sandy terrain)
The story behind the experience
It's pretty easy to see how these obstacles deliver a cool experience for show attendees. But that's only half of the story. For the Bronco obstacle course to be a success, the obstacle course also had to address logistical and budgetary considerations — which is where our decades of knowledge and experience really came in handy.
Ford needed to create a course that could be easily moved from one location to another. (After Motor Bella, the experience headed to Austin, Texas, SEMA, and the Los Angeles Auto Show.) Constructing a track out of dirt would be slow, costly, and present logistical issues. Ford asked Imagination to leverage automation to make installation and dismantling fast, easy, and less dependent on labor.
EWI is (and always has been) built on collaboration, so we took Imagination's ideas and ran with them. We called on our friends at Mannetron to assist with Bronco Mountain's engineering. As usual, they delivered a solution that far exceeded expectations. Bronco Mountain's hydraulics are used only during set up and tear down, making it possible to raise and lower the structure with relative ease. Our world-class team of fabricators and builders took care of the rest. We're (admittedly) biased, but we think the execution and attention to detail is out of this world.
Best of all, we managed to build the obstacle course in a way that streamlined shipping. Nearly all parts of the mountain fit on a single trailer, which is amazing when you understand the size and scale of the obstacle. And, in spite of difficulties and material shortages caused by COVID-19, we managed to stay within budget during the build.
So if you're at Motor Bella this week (or any of the other events mentioned above) stop by the Bronco obstacle course and go for a ride. You can do so knowing the story behind the experience.